THE KING'S DIVISION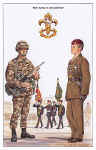 No. 30. The King's Regiment
Kingsman: Patrol Order.
Lieutenant: No. 2 Dress (Ceremonial).
Background: The Regimental Colour Party.
From a watercolour painting by Douglas N. Anderson.

Postcard No. 30 THE KING'S REGIMENT
In 1958 The King's Regiment (Liverpool), known previously as the 8th Foot, and The Manchester, formally 63rd and 96th, amalgamated. The 8th had been raised as Princess Anne of Denmark's Regiment in 1685. A 2nd Battalion of the 8th was given separate identity as the 63rd Foot in 1758. In 1882 it amalgamated with the 96th Regiment to become The Manchester Regiment.
The Kingsman in patrol order has on the composite material helmet with DPM cover and bands for inserting camouflage foliage. He wears temperate DPM combat smock and trousers with'58 patter webbing and high leg combat boots. His Individual Weapon, the 5.56mm SA80, is a divergence from the traditional in that the trigger mechanism and pistol grip are forward of the magazine and there is no butt extension to the rear of the working parts. The muzzle has a flash eliminator which the bayonet fits over with an offset blade. An optical sight and sling is fitted. The latter has a quick release mechanism.
The lieutenant in No. 2 Dress wears the regimental pattern maroon side cap. The badge is embroidered gold and silver wire. This Cap was adopted in 1958 but is of a patter dating from around the time of the Crimean War. The regulation Sam Browne belt and frog support the 1897 pattern infantry officer's sword with leather sword knot and scabbard.
In the background the Colour party is shown in No. 1 Dress. The Regimental Colour is unusual being, from the 1958 amalgamation, dark green. The Regimental Headquarters are in Liverpool with an increment in Manchester.
Published 1988

Copyright © 1995 Published by Geoff White Ltd.