THE KING'S DIVISION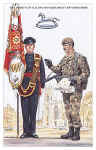 No. 34. The Prince of Wales's Own Regiment of Yorkshire
Lieutenant: No. 1 Dress (ceremonial)
Corporal: Combat Dress.
Background: The Minster, York.
From a watercolour painting by Douglas N. Anderson.

Postcard No. 34 THE PRINCE OF WALES' OWN REGIMENT OF YORKSHIRE
The regiment was formed in 1958 by the amalgamation of the West Yorkshire Regiment (the Prince of Wales' Own) and The East Yorkshire Regiment (the duke of York's Own). Both were raised on the same day in 1685 and numbered 14th and 15th Foot respectively in 1751.
The Lieutenant illustrated is the Ensign to the Regimental Colour. The Ceremonial No. 1 dress introduced in 1947 and based on the "Coronation Blues" of 1937 was discontinued in 1969 except for special occasion. The sword is carried hooked up on a web belt with gold slings worn below a scarlet sash. The Colour Carriage, or belt is of regimental pattern. The Regimental Colour carried the red cross of St. George on a white ground in silk with the Crown, title, Star insignia, Union Wreath of roses, thistles and shamrocks, Battle Honours and other insignia embroidered on coloured silk and metal thread. The pike is 8'7½" high including the Royal Crest on top.
The Corporal is in Combat dress. In 1983 some regiments of the King's Division adopted the khaki beret in place of the blue. Combat gloves and high leg boots are worn. His equipment is '58 Pattern arranged in fighting order. As a section commander he is armed with the 9mm L2A3 Sterling sub-machine gun first issued in 1953. The shorter weapon is more convenient than the rifle for NCO's as specialists such as radio operators and drivers.
The Minster, the great Cathedral of York is shown in the background. Regimental Headquarters is situated in the City.
Published 1988

Copyright © 1988 Published by Geoff White Ltd.