THE KING'S DIVISION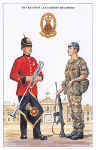 No. 44. The Queen's Lancashire Regiment
Fanfare Trumpeter: Full Dress.
Corporal: Combat Order, UN Cyprus.
Background: Fulwood Barracks, Preston.
From a watercolour painting by Douglas N. Anderson.

Postcard No. 44 THE QUEEN'S LANCASHIRE REGIMENT
The Regiment was formed in 1970 by the amalgamation of the Lancashire Regiment (Prince of Wales's Volunteers) and The Loyal Regiment (North Lancashire) both having been the result of previous amalgamations and sharing antecedents among no less than six of the old numbered groups.
After 1919 full dress was held in abeyance with some exceptions including bandsmen. The Fanfare Trumpeter wears the home service helmet of blue cloth on a cork base. The curb chain is worn hooked up to allow for ease of playing. The tunic is scarlet with blue facings. No. 1 Dress trousers, blue with a red stripe, are worn as an economical substitute for the original full dress trouser which were of thick blue serge with a ¼" red welt on the side seams. The Regiment's set of eight silver fanfare trumpets were presented in 1983/4 by Lancashire towns with which there is a special relationship.
The Corporal is shown in United Nations (UN) Cyprus combat order. He wears the pale blue UN beret with white badge with UN emblem in gold. The lightweight tropical combat suit blouse being worn tucked into the trousers. On the left sleeve is a brassard with the UN Emblem. Short putties are worn over the boots. Patrol order '58 pattern equipment is worn. Personal arms would be either the 9mm sub-machine gun or, as here, the 7.62mm Self Loading Rifle with web sling.
In the background is seen the Main Gate, with Chapel above from within Fulwood Barracks, Preston, Lancashire.
Published 1988

Copyright © 1995 Published by Geoff White Ltd.