BRITISH INFANTRY REGIMENTS (2)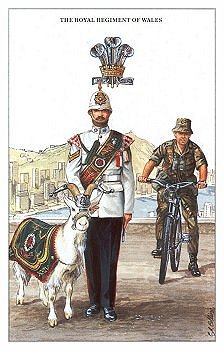 No. 39. The Royal Regiment of Wales
Goat Major with Goat Mascot: Warm Weather Dress, 1992.
Second Lieutenant: Combat Dress, on Border patrol.
Background: Hong Kong Harbour.
From a watercolour painting by Christopher A. Collins.

Postcard No. 39 THE ROYAL REGIMENT OF WALES
On the 11th June 1969 The Royal Regiment of Wales (RRW) was formed from the amalgamation of two famous Welsh Regiments, The South Wales Borderers (24th Foot) and The Welch Regiment (41/69th Foot). The 24th Foot were raised in 1689 in Ireland by Sir Edward Dering. The 41st Foot was formed in 1719 from out-pensioners of the Royal Hospital, Chelsea and styled the 41st or Invalids Regiment. In 1881 the 41st became the 1st Battalion and the 69th (South Lincolnshire) and 2nd Battalion of the Welch Regiment.
The Goat Major is a junior NCO. He is seen here wearing his tropical ceremonial dress with special sash of office. The custom of having a goat as the Regimental Mascot originated in the 1st Battalion The Welch Regiment. During the Crimean War of 1854-56 a small goat of Russian origin was adopted. Queen Victoria on hearing that it had later died on service in the West Indies arranged for a replacement from the Royal Herd of pure white Kashmir goats at Windsor Great Park.
The young Officer is shown dressed for border patrol duties in Hong Kong. He wears lightweight tropical disruptive pattern combat dress with basic belt order equipment and a jungle hat. His service pistol is held in a holster on his left hip and for security reasons is attached to his person by a lanyard worn round his neck. He carried standard service binoculars. He is shown riding one of the tough cross country bicycles frequently used when on border operations. Hong Kong Harbour is shown in the background.
Published 1992

Copyright © 1992 Published by Geoff White Ltd.