BRITISH INFANTRY REGIMENTS (2)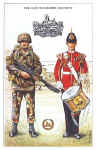 No. 42. The Gloucestershire Regiment
Sergeant: Tropical Combat dress
Drummer: Full Dress
Background: Chinook Helicopter
From a watercolour painting by Christopher A. Collins.

Postcard No. 42 THE GLOUCESTERSHIRE REGIMENT
The Gloucestershire Regiment's history extends back to 1694 when Colonel John Gibson raised a new regiment which later became the 28th Foot. Fifty years later the 61st Foot was formed, and within a few more years, both regiments were linked with the County of Gloucestershire becoming the 28th (North Gloucestershire) and 61st (South Gloucestershire) respectively. In 1881 these two proud regiments became the 1st and 2nd Battalions of The Gloucestershire Regiment.
The GLOSTERS claim the unique distinction of being the only regiment to wear two cap badges. The Back Badge was awarded to the 28th for their back to back stand at the Battle of Alexandria in 1801.
The tropical combat dress worn by the Sergeant is made of hard wearing lightweight material. He carries the Light Support Weapon (LSW). This has replaced the General Purpose Machine Gun in the light role as a section light machine gun. It is a variant of the SA80. It is heavier and has a longer barrel but at least 80 per cent of its parts are interchangeable. The LSW has a range of 600 metres and a rate of fire of 675 to 725 rounds per minute.
The drummers scarlet tunic has white facings and is decorated with crown lace. On his right sleeve he wears the blue and gold citation emblem of the United States Presidential Unit Citation. This was awarded to the 1st Battalion for its gallant action at the battle of the Imjin River in Korea in April 1951.
A Chinook helicopter is shown on the ground with soldiers embarking.
Published 1993

Copyright © 1993 Published by Geoff White Ltd.