BRITISH INFANTRY REGIMENTS (2)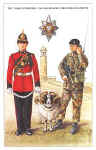 No. 43. The Worcestershire and Sherwood Foresters Regiment
Ram Major: Full Dress
Private: Combat Dress
Background: Regimental Memorial at Crich
From a watercolour painting by Christopher A. Collins.

Postcard No. 43 THE WORCESTERSHIRE AND SHERWOOD FORESTERS REGIMENT
Though the Regiment was formed as recently as 1970 by the amalgamation of two famous county regiments, the Worcestershire Regiment (late 29th and 36th Foot) and the Sherwood Foresters (late 45th and 95th Foot), it traces its origins back some 300 years. Formed in 1694 the 29th Regiment first saw active service under Marlborough. The 36th Regiment's early honours were gained during the conquest of India. The 45th Regiment was formed in 1741. It served continuously in all Wellington's famous Peninsula campaign battles until the siege of Toulouse in 1814. The 95th Derbyshire Regiment was raised in 1823 and first saw active service in the Crimea.
The Ram Major is a junior NCO. He is shown here wearing ceremonial dress which includes a special sash of office. The Regimental Mascot, who is traditionally named DERBY, is a Swaledale ram from the Duke of Devonshire's Chatsworth herd. DERBY 1, was acquired by the 95th Foot at the siege of Kotah during the Indian Mutiny in 1858. He received the Indian Mutiny Medal with Clasp 'Central India' end emerged, with other rams, undefeated from 33 battles.
The soldier shown wears standard combat smock and trousers. Her is shown here sending a message on a light manpack radio as used at platoon level. This has an effective range of at least 5kn and incorporates a whisper facility which allows it to be operated in close proximity to the enemy.
The Regiment's War Memorial in the form of a lighthouse tower stands at the summit of a 1,000 foot hill at Crich.
Published 1993

Copyright © 1993 Published by Geoff White Ltd.