BRITISH INFANTRY REGIMENTS (2)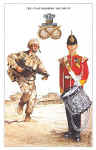 No. 47. The Staffordshire Regiment
Private: Desert Combat Dress
Drummer: Full Dress
Background: Armoured Personnel Carriers
From a watercolour painting by Christopher A. Collins.

Postcard No. 47 THE STAFFORDSHIRE REGIMENT (The Prince of Wales's)
The Staffordshire Regiment now incorporates the former North Staffordshire (64th) and South Staffordshire (38th) Regiments, which were amalgamated in 1959. Its origins go back to 1705 when the 38th Foot was raised at Lichfield in The Kings Head public house. The 64th Foot was raised in 1756. On the right sleeve all ranks wear a glider badge, which commemorates the part played by the 2nd Battalion, The South Staffordshire Regiment in the Airborne Landings in Scilly 1943 and in Arnhem 1944. The backing cloth worn behind the cap badge originates from the South Staffords who served for over 50 years in the West Indies and had to repair their uniforms with jute sacking.
The soldier depicted is a rifleman wearing desert combat dress with basic belt order webbing equipment. His glass reinforced plastic helmet has a cloth cover with a band into which camouflage material can be inserted and a chin strap designed for use by airborne forces. He is armed with a light support weapon. On his right arm he wears the 7 Armed Bde flash.
A side drummer of the 1st Battalion Corps of Drums is shown wearing a home service helmet and standard scarlet. He is carrying a silver drum. Sets of silver drums were presented to both North and South Staffords by various individuals and bodies in the country after World War I.
In the background is shown a desert scene with Warrior armoured personnel carriers. 1 Staffords deployed to Saudi Arabia with 7th Armoured Brigade as part of Op Granby in October 1990.
Published 1993

Copyright © 1993 Published by Geoff White Ltd.