BRITISH INFANTRY REGIMENTS (2)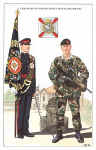 No. 49. The Duke of Edinburgh's Royal Regiment
Colour Ensign: No. 1 Dress (Ceremonial).
Lieutenant: Combat Dress
Background: Regimental Headquarters, Salisbury
From a watercolour painting by William R. Younghusband.

Postcard No. 49 THE DUKE OF EDINBURGH'S ROYAL REGIMENT (BERKSHIRE AND WILTSHIRE)
The Regiment was formed on 9 June 1959 by the amalgamation of the Royal Berkshire Regiment and Wiltshire Regiment. The Berkshire Regiment was formed in 1881 by the amalgamation of the 49th and 66th Regiment of Foot. In 1743 the 49th Regiment of Foot was raised for service in Jamaica. The 66th Regiment of Foot was raised and adopted the county title of Berkshire in 1742. The Wiltshire Regiment was formed in 1881 by the amalgamation of the 62nd and 99th Regiments of Foot. The 62nd became a regiment in its own right in 1758. The 99th of Foot was raised in Glasgow in 1824 as the Lanarkshire regiment.
The Colour Ensign is shown in Ceremonial No. 1 Dress (or 'Blues'). He carried the Regimental Colour. Selected Battle Honours, Prince Phillip's Cypher, the Chinese Dragon and the Navel crown are emblazoned on the Colour belt. The red band on the cap denotes a 'Royal' regiment.
The second officer is in full combat uniform. He wears a blue beret. Behind his cap badge he has a red backing known as the 'Brandywine Flash'. This commemorates the action fought by the 49th during the American War of Independence. He is equipped with the latest nylon fabric Personal Load Carrying Equipment (PLCE) and SA80 rifle. His helmet emblazoned with rank ensignia is on top of his PLCE rucsac which stands behind him.
The Regimental Headquarters and Museum is currently at 'The Wardrobe', a building of considerable historical importance situated adjacent to Salisbury Cathedral.
Published 1992

Copyright © 1992 Published by Geoff White Ltd.