BRITISH INFANTRY REGIMENTS (2)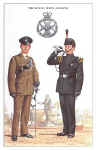 No. 61. The Royal Green Jackets
Lieutenant: No. 2 Dress (Ceremonial)
Bugler: No. 1 Dress
Background: The Light Division Depot, Winchester
From the watercolour painting by Douglas N. Anderson

Postcard No. 61 THE ROYAL GREEN JACKETS
In the infantry reorganisations of 1958 The Oxfordshire and Buckinghamshire Light Infantry (OBLI), The King's Royal Rifle Corps (KRRC) and The Rifle Brigade (RB) were joined as the three regiments of The Green Jackets Brigade. In 1966 these became the three battalions of The Royal Green Jackets. The OBLI was formed in 1881 by the amalgamation of the 43rd and 52nd Light Infantry regiments raised in 1741 and 1755 respectively. The KRRC was raised in America in 1755. The RB started life in 1800 as 'the Experimental Corps of Riflemen'.
The Officer is shown wearing service dress. His forage cap is dark green with a black welt and black oak-leaf patterned band. The black pouch belt has a large Regimental badge centred with lion's head boss above and whistle on three chains below - all in silver. Gloves and George boots are worn. The sword carried on black slings worn below the tunic, is the steel Gothic hilt, 1827 Rifles pattern with black sword knot.
The Bugler wears a sealskin busby with a black-over-red plume. His No. 1 Dress Rifle green tunic has black buttons and black, gold laced wings. The plaited dress cords and tassels are black as are the separate bugle cords. The black waistbelt has a plate with Regimental badge all in silver and supports a 16" "cruciform-hilt buglers" sword. Black gloves and George boots are worn.
The Army Training Regiment, Winchester is in the Sir John Moore Barracks, at the entrance to which stand splendid bronze statues of Sir John Moore and two present-day soldiers of the Light Division.
Published 1991

Copyright © 1991 Published by Geoff White Ltd.