THE KING'S DIVISION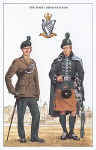 No. 41. The Royal Irish Rangers
Lieutenant: No. 2 Dress (Ceremonial).
Lance Corporal Piper: No. 1 Dress.
Background: The Watergate, Enniskillen Castle.
From a watercolour painting by Douglas N. Anderson.

Postcard No. 41 THE ROYAL IRISH RANGERS
The Regiment was formed in 1968 by the amalgamation of The Royal Inniskilling Fusiliers, The Royal Ulster Rifles and The Royal Irish Fusiliers. These had previously been the products of the 1881 amalgamations of, respectively, the 27th (Inniskilling) and 108th Regiments; the 83rd (County of Dublin) and 86th (Royal County Down), and the 87th (Royal Irish Fusiliers) and 89th (Princess Victoria's).
The Lieutenant wears ceremonial No. 2 Dress. an unusual regimental feature is the piper green trousers which are worn with black Highland pattern shoes or George Boots. His headdress is the distinctive Irish caubeen in piper green with regimental badge and green feather hackle. A blackthorn stick is carried. The blackthorn grows in Irish hedges and has long been carried by locals.
The Commanding Officer's (CO's)Piper shown here is a lance Corporal. He wears the "Bonnet, Irish" a caubeen with a large bi-metal regimental badge and green hackle. The green jacket has dark blue collar, shoulder straps and cuffs. The special badge if the CO's Piper is worn above the rank chevron. The saffron kilt has three green cloth shamrock-shaped patches on the apron with the superimposed cap badges of, from the top, The Royal Inniskilling Fusiliers, The Royal Ulster Rifles and The Royal Irish Fusiliers. At the neck of the cloak is the traditional Celtic pattern Tara Brooch with chain fastening. A competition is held annually to pick the CO's Piper. It is open to Corporals and below in the pipe band. The appointment is for one year.
The Watergate of Enniskillen Castle is shown in the background.
Published 1988

Copyright © 1988 Published by Geoff White Ltd.