THE KING'S DIVISION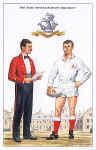 No. 45. The Duke of Wellington's Regiment
Warrant Officer, Class 1: Mess Dress.
Rugby Football Player: Regimental Strip.
Background: Stratford Saye House.
From a watercolour painting by Douglas N. Anderson.

Postcard No. 45 THE DUKE OF WELLINGTON'S REGIMENT (West Riding)
The Regiment is descended from the 33rd and 76th Regiments of Foot who were linked in 1881. The 33rd had been raised in 1702, and the first Duke of Wellington was a distinguished Commanding Officer. In 1853, following his death, the Regiment was named after him by Royal command. The 76th was raised in 1787 and in recognition of conspicuous service in India was granted the 'Elephant' badge and an Honorary Stand of Colours which, uniquely, are still carried today.
The Regimental Sergeant Major is shown wearing mess dress. The first recorded references to a separate mess for sergeants appears in the 1830s and 40s. At the time the full dress coatee was worn for all evening functions. However, in the early 1860's it became custom in the officers mess to wear the more comfortable undress shell jacket. In recent years it has become common for warrant officers and sergeants to adopt a Regimental mess dress similar to that of officers.
The Duke of Wellington's Regiment is well known for its sporting achievements particularly in rugby football. They were the first winners of the Army Rugby Cup in 1907 and since then have won it a further fourteen times. The regimental strip consists of white shirt and shorts with the badge of the 33rd and motto in red on the left breast. The socks are red with white tops.
Strafield Saye House near Reading is the home of the present and eighth Duke of Wellington who was appointed Colonel in Chief of the Regiment in 1974 by her Majesty the Queen.
Published 1988

Copyright © 1995 Published by Geoff White Ltd.