THE BRIGADE OF GURKHAS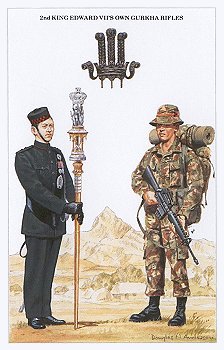 No. 54. 2nd King Edward VII's Own Gurkha Rifles
Truncheon Jemadar: No. 1 Dress
Rifleman: Combat Dress
Background: Machhapuchhare Mountain, Nepal
From a watercolour painting by Douglas N. Anderson.

Postcard No.54 2ND KING EDWARD VII'S OWN GOORKHAS (THE SIRMOOR RIFLES)
The Regiment was raised initially as the Sirmoor Battalion. During the Indian Mutiny it remained loyal to the British and at the Siege of Delhi earned particular distinction alongside the 60th Rifles. In recognition of this they were given Rifle status and uniform. Their colours now being relinquishes in compliance with Rifle tradition, a Ceremonial Truncheon was presented as a replacement at the command of Queen Victoria in 1863. A Royal title was awarded in 1875.
The Truncheon Jemadar is shown in No. 1 Dress. He wears a rifle green kilmarnock cap or 'Golo Tpoi' and his tunic and trousers are also green. His rifle pattern sword is suspended on black slings from a belt below the tunic. In ceremonial the truncheon is carried upright like a colour. It is made of bronze and silver. The top represents the minaret of Delhi Palace with three Goorkhas standing on it supporting the Queen's crown above their heads. The minaret contains a pair of crossed kukris and carries the inscription "Main Picqet Hindoo Rao's House, Delhi 1857". The Truncheon is a quite unique emblem upon which recruits swear allegiance to the Regiment and the crown.
The Rifleman wears No. 9 Dress (Tropical Combat). His DPM hat is decorated with a patch of regimental dicing and a red distinguishing band. His weapon is the 5.56mm M16 AR-15 Armalite automatic rifle: a weapon well suited to the jungle.
The mountain in the background is the Machhapuchhure. (Fish Tail) which is situated 40k to the north of Pokhara, the western recruiting centre of Nepal.
Published 1989

Copyright © 1989 Published by Geoff White Ltd.