THE BRIGADE OF GURKHAS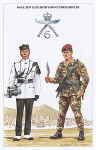 No. 55. 6th Queen Elizabeth's Own Gurkha Rifles
Bugler: No. 3 Dress
Rifleman, Para Reece Platoon: Combat Dress
Background: The Waterfront, Hong Kong
From a watercolour painting by Douglas N. Anderson.

Postcard No. 55 6TH QUEEN ELIZABETH'S OWN GURKHA RIFLES
The Regiment was raised as a local hill corps in Chaubiaganj Cuttak by Captain Simon Fraser in 1871 and known at first as the Cuttak Legion. It served in the Burma Wars, campaigned in the N.W. Frontier and during the Indian Mutiny remained loyal and retained its arms. The Royal title was conferred in 1959. The 2nd Bn. which had been raised in 1904 at Abbottabad, amalgamated with the 1st Bn. in Hong Kong in 1969.
The Bugler in No. 3 Dress wears a black Kilmarnock cap with a red tourie and Regimental badge. The chinstrap is worn below the lower lip in the Regiment. Two badges are worn on the right upper arm of the white No. 3 Dress jacket, the first, worn by all ranks is the Prussian Eagle of the 14th/20th Hussars which commemorates the association of the two regiments at the Battle of Medicina, Italy, 1945. The second is the badge of appointment being a stringed bugle embroidered in black on a dark green. Trousers are rifle green.
The Rifleman is in the Para Reece Platoon and wears combat dress. An Airforces' maroon beret is worn with the Regimental Badge. The kukri is located on the left hip with a DPM cover over the sheath. The Kukri, the traditional national weapon of the Gurkha, is here clearly shown with its unique, curved leaf shaped blade of heavy but razor-sharp steel.
Headquarters of the Brigade of Gurkhas is in Hong Kong and the background shows the waterfront with Victoria Peak rising behind.
Published 1989

Copyright © 1989 Published by Geoff White Ltd.