THE BRIGADE OF GURKHAS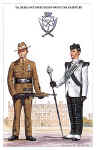 No. 56. 7th Duke of Edinburgh's Own Gurkha Rifles
Rifleman: No. 2 Dress (Ceremonial).
Drum Major: No. 3 Dress.
Background: The Gurkha Museum, Winchester.
From a watercolour painting by Douglas N. Anderson.

Postcard No. 56 7TH DUKE OF EDINBURGH'S OWN GURKHA RIFLES
Raised at Thayetmyo in 1902 as the 8th Gurkha Rifles the Regiment became the 2nd/10th in 1903 and the 7th in 1907. After joining the British Army in 1948 it served briefly as Field Artillery before conversion again to infantry and in 1959 became the Duke of Edinburgh's Own.
The Rifleman is in No. 2 Dress (Ceremonial). His Kashmir or felt slouch hat (in felt two hats, one within the other for better rigidity) has a pale pagri with a narrow rifle green edging and Regimental badge on a patch of Cameron of Erracht tartan. The black waistbelt supports the kukri to right rear. For a ceremonial parade a black wool cummerbund is worn underneath the belt. The rifle is the SA80.
The Drum Major is in No. 3 Dress. This order of dress is the warmer weather equivalent of No. 1 dress and incorporates certain items of it. It is issued principally to pipers and drummers. The Kilmarnock cap is rifle green with a black tourie and the Regimental badge. The white jacket has a stand collar and skirts cut away in Highland pattern. Trews of Douglas tartan commemorate the previous affiliation with the Cameronians and are also worn by pipers and drummers. The drum belt or sash is rifle green. To either side of the drum belt is a small silver-mounted drumstick symbolising the origins of this belt as a functional drum carriage. The staff is ebony with silver head, chains and ferrule.
The imposing background building houses the new Gurkha Museum in Upper Barracks, Winchester.
Published 1989

Copyright © 1995 Published by Geoff White Ltd.