THE BRIGADE OF GURKHAS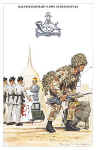 No. 57. 10th Princess Mary's Own Gurkha Rifles
Riflemen: No. 6 Dress
Corporal, 5 Airborne Brigade: Combat Order
Background: Shwe Dagon Pagoda, Rangoon
From a watercolour painting by Douglas N. Anderson.

Postcard No. 57 10TH PRINCESS MARY'S OWN GURKHA RIFLES
The Regiment was originally raised at Vellore in June 1766 as part of the British India Company Madras Army. The badge of an elephant and the ASSAYE battle honour won in 1803 were combined with the Rock Fort after the historic defence of the Fort at Amboor, to form the famous 'Elephant and Castle' emblem, which has recently been authorised as an arm badge. In May 1890 the Regiment converted to a Gurkha unit for service in Burma and became 10th Gurkha Rifles in 1901.
The Riflemen who are wearing No. 6 Dress, the warm weather parade uniform, are taking part in a Regimental ceremony known as Kasam Khane. In this each new recruit swears allegiance to the Regiment, his officers and seniors and his comrades. He repeats the words read out by the Pandit whilst touching the Regimental Flag, the Mahabir Swani Flag and the Regimental Battle Honours on the side of the drums. The Pandit in many ways equates to a regimental chaplain. The Mahabir Swami Flag depicts the conventional figure of a Hindu deity.
The Corporal ears combat dress with helmet and equipment liberally covered with scrim - plastic imitation foliage. He carried the SA80 rifle with magazine removed in accordance with helicopter emplaning drills. He is equipped with a PRC 349 Radio and carries on his pack a 66mm LAW )Light Anti-armoured Weapon).
In the background is shown the Shwe Pagoda near Rangoon in Burma where the Regiment spent its formative years and where 3 of its 4 battalions fought with distinction during the Second World War.
Published 1989

Copyright © 1989 Published by Geoff White Ltd.