THE BRIGADE OF GURKHAS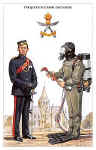 No. 58. The Queen's Gurkha Engineers
Captain, Queen's Gurkha Officer: No. 1 Dress.
Sapper: Equipped for Diving.
Background: The Cathedral, Rochester.
From a watercolour painting by Douglas N. Anderson.

Postcard No. 58 THE QUEEN'S GURKHA ENGINEERS
The first Gurkha Engineers were formed in 1948 in Malaya. Further Squadrons followed and in 1951 the Regimental Headquarters of a Field Engineer Regiment was formed in Hong Kong.
The Captain (Queen Gurkha Officer) is in No. 1 Dress. His Kilmarnock cap is dark blue with two bands of gold lace, a gold tourie and Regimental badge. The tunic and trousers are dark blue, the latter with a wide scarlet stripe. The pouch belt is unusual being of red patent leather with gilt fittings. The sword is the 1897 infantry pattern with scrolled steel guard and steel scabbard. Black gloves and shoes are worn.
The Queen's Gurkha Engineer is equipped for diving. Army divers are responsible for underwater reconnaissance. They can clear and lay mines and other obstacles on river banks and beaches. They are trained in underwater demolition techniques and they assist with underwater construction work. The diver shown is wearing a naval issue dry suit with a full face mask. Two compressed air cylinders are supported by a harness on his back. The air is regulated by a two stage demand valve system. The blue belt is weighted to help him submerge under water. A small air bottle called a suit inflation unit is attached to the front belt. Military divers generally work in depths of about 18 metres but an advanced diver can descend to 45 metres.
In September 1988 the Regiment was given the Freedom of the City of Rochester. The ancient Cathedral of Rochester is shown in the background.
Published 1989

Copyright © 1995 Published by Geoff White Ltd.