THE BRIGADE OF GURKHAS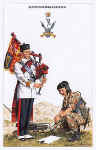 No. 59. Queen's Gurkha Signals
Pipe Major: No. 3 Dress.
Signalman: Combat Dress.
Background: New Territories, Hong Kong.
From a watercolour painting by Douglas N. Anderson.

Postcard No. 59 THE QUEEN'S GURKHA SIGNALS
Following the 1947 partition of India four regiments of Gurkha infantry were transferred to service with the British Army to become in January 1948 The Brigade of Gurkhas. In the same year a Signal Squadron was raised. A new badge was formally presented in 23rd September 1954 and this date became thereafter the Regimental birthday.
The Pipe Major is in No. 3 Dress. in Gurkha tradition the Regiment raised a band of Pipes and Drums in 1955 adopting the tartan and fittings of the 51st Highland Division Signal Regiment. The Kilmarnock cap is black with blue tourie and Regimental badge. Badges of rank and appointment are worn on the right forearm of the white tunic. The scarf plaid, pipe ribbons and bag are of Grant tartan. The black baldrick is decorated with an officer's pouch belt badge. The waist belt supports the kukri. The No. 1 Dress trousers are dark blue with a 2" scarlet stripe. Highland pattern brogues are worn with white gaiters. The Royal Pipe Banner carries the Regimental badge embroidered on a scarlet ground on the obverse.
The Signalman in Tropical Combat Dress (No. 9 Dress) wears a blue beret with Regimental badge. The blouse and trousers are in lightweight DPM material. The kukri is carried behind the left pouch. The other personal weapon carried is the SA80 rifle. The signaller is shown using a ground operated PRC 320 Clansman Radio. He has a headset with microphone and is transmitting from a Morse key box.
The background shows the typically rugged terrain of Hong Kong's New Territories bordered by mainland China.
Published 1989

Copyright © 1995 Published by Geoff White Ltd.