THE BRIGADE OF GURKHAS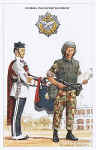 No. 60. Gurkha Transport Regiment
Pipe Major: No. 3 Dress
Sergeant, Saracen Section Commander: No. 9 Dress
Background: Officer's Mess, Gurkha Transport Regiment
From a watercolour painting by Douglas N. Anderson.

Postcard No. 60 THE GURKHA TRANSPORT REGIMENT
The Gurkha Army Service Corps was formed in Singapore in 1958. Further companies were subsequently raised and in 1959 Royal approval was given for affiliation to the RASC.
The pipe Major is wearing No. 3 Dress. His Kilmarnock cap and tourie are dark blue. The white No. 3 Dress tunic has slightly rounded skirts. The badge of appointment consists of four inverted gold lace chevrons with silver metal bagpipes on a Macduff tartan patch above. The black baldrick is mounted with the Regimental badge. The scarf plaid is of the red Macduff tartan. The lower 'wing' of the plaid is, in current fashion, tucked below the waistbelt for convenience in marching. The ornate presentation kukri is for use by the Pipe Major. The dark blue trouser have a double white stripe and are worn with short white gaiters and black Highland pattern shoes.
The pipes have Macduff tartan bag and ribbons and red cords and tassels. The banner and fringe are dark blue embroidered with the regimental badge on the obverse and the initials of the Commanding Officer on the reverse.
The sergeant is a Saracen Section Commander and is dress in No. 9 Combat Dress. His plastic composition helmet has an integrated communications system. Tropical DPM blouse and trousers are worn with protective "Flak" jacket. Rank chevrons are printed in black on an olive green patch. He wears patrol order web equipment and is armed with the sterling sub-machine gun.
In the background is the British Officers Mess, Kowloon, in which the Regimental Headquarters is situated.
Published 1989

Copyright © 1989 Published by Geoff White Ltd.