THE SUPPORT ARMS AND SERVICES (2)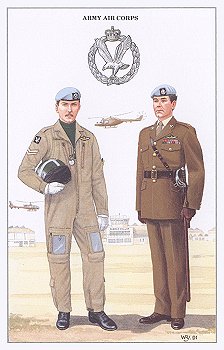 No. 63. Army Air Corps
Corporal: Flying dress
Major: No. 2 Dress
Background: AAC Centre, Middle Wallop
From a watercolour painting by William R. Younghusband.

Postcard No. 63 THE ARMY AIR CORPS
The original Army Air Corps (AAC), formed in 1942, included the Glider Pilot Regiment, the Parachute Regiment, and on its formation in 1944, the Special Air Service Regiment. The present formation came into being on 1st September 1957 when the War Office assumed responsibility for the manning and operation of its own light aircraft for reconnaissance, direction of military fire, and general liaison flying. The aircraft then were the Auster, a two seat fixed wing aeroplane, and the Skeeter, a tiny two seat helicopter.
The Corporal in Flying Dress is wearing the AAC light blue beret and holding his Mark 4A flying helmet. His leather flying gloves are issued in white for training and olive green for operations. The flying suit is made form Nomax, a flame resistant material, with perspex knee pads. He carried his metal identity disc and is wearing the 1965 pattern black leather flying boots. His aircrew sweatshirt is in olive green cotton.
The Major in Parade Dress (No. 2 Dress) also wears the light blue beret. This has an officer's pattern cap badge embroidered in silver wire. The service dress is "cavalry style" in khaki worsted cavalry twill. It has silver eagle collar badges and he wears the army flying badge (pilot's wings). Brown leather shoes, gloves, Sam Browne belt, and sword frog are worn with the No. 3 pattern sword.
The Control Tower and hangers at the School of Army Aviation, Middle Wallop, with airborne Lynx and Gazelle helicopters are shown in the background.
Published 1991

Copyright © 1991 Published by Geoff White Ltd.