THE SUPPORT ARMS AND SERVICES (2)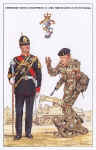 No. 68. Corps of Royal Electrical and Mechanical Engineers
Drum Major: Full Dress
Recovery Mechanic: Combat Dress
Background: Challenger Armoured Repair and Recovery Vehicle
From a watercolour painting by Douglas N. Anderson

Postcard No. 68 CORPS OF ROYAL ELECTRICAL AND MECHANICAL ENGINEERS
The role of the Royal Electrical and Mechanical Engineers (REME) is to keep the Army's wide range of equipment fit and ready for operational use. REME is a relatively young Corps since it was only formed in 1942. Since then it has established itself as a highly technical and versatile Corps of specialists, providing tradesmen supporting all branches of the Army.
The Drum Major depicted wears ceremonial dress. This was discontinued in 1919 except for use by musicians. His badges of appointment are worn on the right sleeve. The drum sash is a relic of when the Drum major was the senior drummer and carried a drum. It is now purely ornamental. The gold dress cords are now worn as decoration by drummers and musicians. He wears an infantry pattern sword with steel scabbard. It is hooked up with the hilt facing backwards to allow him free use of both hands in handling the mace.
The recovery mechanic wears a dark blue beret with Corps badge. His disruptive pattern combat dress is the 1984 pattern. He wears 1958 pattern webbing and carried his SA80 slung on a shortened sling to allow free use of his hands. He is depicted calling for assistance to lift the Challenger Armoured Repair and Recovery Vehicle (ARRV) recovery shackle. This is a two man load.
The background scene shows a Challenger ARRV. This vehicle has a very heavy winch, an Atlas crane, a bulldozer blade and provision for carrying a spare Challenger engine pack and transmission.
Published 1991

Copyright © 1991 Published by Geoff White Ltd.