THE SUPPORT ARMS AND SERVICES (2)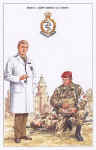 No. 66. Royal Army Medical Corps
Hospital Consultant
Combat Medial Technician: Combat Dress
Background: Cambridge Military Hospital, Aldershot
From a watercolour painting by Douglas N. Anderson

Postcard No. 66 ROYAL ARMY MEDICAL CORPS
In the one hundred and fifty years following the establishment of the Standing Army, medical services and hospitals were primitive, minimal and organised only at regimental level. It was only after the Peninsular Wars and Waterloo that radical changes took place. In 1855, inadequacies highlighted by the conditions in the Crimea, were improved and a Medical Staff Corps was formed of members specially trained in ambulance and hospital duties. Meanwhile, the Army Medical Department, to which all commissioned apothecaries and regimental surgeons belonged, was also undergoing essential reorganisation and improvement. Finally in 1898 both branches were unified under one command of fully trained officers and men under the title of the Royal Army Medical Corps (RAMC).
Approximately one seventh of the total establishment of the Corps is officers a large majority of whom are qualified officers. The Hospital Consultant illustrated wears khaki service dress with a white coat replacing the tunic. The coat has three patch pockets and is shown with typical accessories being a name tag on the left breast, a pager hooked to the top pocket which also contains a clinical torch, and a stethoscope worn hanging from the neck.
The Lance Corporal is a member of 23 Parachute Field Ambulance and wears a maroon beret with the RANC badge. On his parachutist's smock he wears qualification wings, drop zone identification patch and rank insignia all on the right sleeve with a Red Cross brassard on the left. He is armed for defensive purposes only, with a 9mm sub-machine gun slung over the shoulder.
The background shows the Cambridge Military Hospital, Aldershot which closed in 1996.
Published 1991

Copyright © 1991 Published by Geoff White Ltd.