THE SUPPORT ARMS AND SERVICES (2)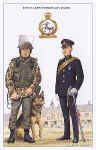 No. 71. Royal Army Veterinary Corps
Lance Corporal, Dog Handler: Internal Security duties
Captain: No. 1 Dress
Background: The Stables, Melton Mowbray
From a watercolour painting by Douglas N. Anderson

Postcard No. 71 ROYAL ARMY VETERINARY CORPS
On 25th June 1796 John Shipp joined the 11th Light dragoons as their Veterinary Surgeon. He was the Army's first veterinary surgeon and this date is celebrated as the Royal Army Veterinary Corps Foundation Day. An Army Veterinary Service was established later that year. The Army Veterinary Department (AVD) formed in 1881 brought all Army veterinary surgeons, except Household Cavalry, one list with one pattern of uniform. The Army Veterinary Corps (AVC) was formed in 1903 and, in 1906, the AVD and AVC amalgamated as the AVC. The Royal title was conferred in 1918.
The Lance Corporal Arms and Explosive Search Dog handler is shown on internal security duties. His helmet is fitted with a visor (shown raised). His flak jacket is the latest pattern incorporating rifle patches with pads, field dressing pouch and pockets. Equipment on the waist belt consists of the respirator haversack and pistol case carrying a 9mm Browning. A truncheon is carried in the flak jacket pocket. Protection dogs are generally German Shepherd Dogs whilst Labrador are favoured for tracking duties.
The Captain is shown in No. 1 Dress. His forage cap is dark blue with maroon welt and badge and Regimental badge. His tunic is dark blue with gold shoulder cords. The 2" wide pouch belt is of gold lace showing a central crimson silk light. His overalls have a double crimson stripe and are worn with Wellingtons fitted with spurs. The pattern 1912 cavalry sword is carried.
The stables at Melton Mowbray, originally built in 1896 for a stud farm, were acquired by the Army Remount services in 1905.
Published 1990

Copyright © 1990 Published by Geoff White Ltd.