THE SUPPORT ARMS AND SERVICES (2)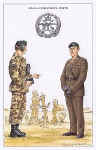 No. 72. Small Arms School Corps
Staff Sergeant (SS1): Combat Dress
Major, Advisor Infantry Weapons: No. 2 dress
Background: Mortar Team in NBC Clothing
From a watercolour painting by Douglas N. Anderson

Postcard No. 72 SMALL ARMS SCHOOL CORPS
In 1854 a School of Musketry was founded at Hythe, Kent. In the following year a 'Corps of Instructors' was added to its establishment. The Small Arms School Corps (SASC), a title which was adopted in 1929, is its modern descendant. The School was renamed the 'Small Arms School' in 1919 and moved to The School of Infantry, Warminster, in 1969.
A rifle green beret with regimental badge is worn by the Corps in all orders of dress except mess dress. The Staff Sergeant instructor's combat clothing is here worn with web belt and combat boots. Badges of rank are woven in black thread on an olive green patch on the upper arm. This instructor also wears the woven thread winged parachute qualification badge of the trained parachutist. Ear protectors are worn for range work and general self-focusing rubber-encased binoculars are carried.
About 20% of the SASC hold commissioned rank all of whom have been promoted from within the Corps. The major shown is in No. 2 Dress. His green beret is worn with a small regimental badge. The service dress is in guards barathea with white metal buttons, collar badges and rank badges. The white metal (silver anodised) buttons are unusual and were adopted by the Corps when No. 1 Dress was issued to their Coronation detachment in 1953.
A mortar team in Nuclear, Biological and Chemical Warfare (NBC) clothing is shown training on Salisbury Plain. The mortar is the 81mm L16 A2 developed in conjunction with the Canadian Army and first introduced into British service in 1962.
Published 1990

Copyright © 1990 Published by Geoff White Ltd.