THE SUPPORT ARMS AND SERVICES (2)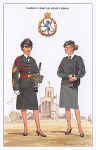 No. 82. Women's Royal Army Corps
Sergeant Bandswoman: No. 1 Dress (Ceremonial)
Corporal: Barrack Dress
Background: Guildford Cathedral
From a watercolour painting by Douglas N. Anderson

Postcard No. 82 THE WOMEN'S ROYAL ARMY CORPS
The Woman's Royal Army Corps (WRAC) was formed in 1949 as a separate Corps of the Regular Army. Amongst the WRAC's predecessors are the First Aid Nursing Yeomanry (FANY), the Women's Legion and the Women's Army Auxiliary Corps (WAAC). This later Corps was born in 1916 and later retitled Queen Mary's Army Auxiliary Corps (QMAAC). Disbanded in peace in 1921 they were reformed as the Auxiliary Territorial Service (ATS) in 1938.
The WRAC Band is the only all female military band in the world. The jacket and skirt of their No. 1 Dress are dark green barathea. The badges of rank are in gold braid on beech brown backing. On the right arm above the badges of rank is a golden lyre, denoting a trained musician. The other embellishments are beech brown shoulder cords or aiguillettes and a matching belt bearing the Corps badge on fastening. This uniform is worn with a peaked dark green forage cap, white shirt with tab tie, white gloves and black shoes.
Barrack Dress is worn as every day uniform by the majority of the WRAC. It is a dark green woollen "V" necked pullover with a Lovat green skirt made of a woollen material. The shirt is white and worn either with a tie, as shown here, or a tab tie. The shoes and handbag are black. Featured here is a dark green beret with a gilt WRAC cap badge on a tear drop of beech brown backing. Forage caps may also be worn in this mode of dress.
Guildford Cathedral is shown in the background. The WRAC has the Freedom of the Borough of Guildford where the WRAC Headquarters and Training Centre is located.
Published 1991

Copyright © 1991 Published by Geoff White Ltd.