THE SUPPORT ARMS AND SERVICES (3)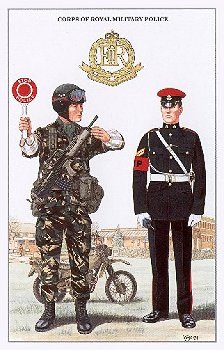 No. 69. Corps of Royal Military Police
Corporal: Combat Dress.
Corporal: No. 1 Dress (Duty Officer).
Background: RMP Training Centre, Chichester.
From a watercolour painting by William R. Younghusband.

Postcard No. 69 CORPS OF MILITARY POLICE
The origins of the Military Police (MP) or Provost can be traced back to the 12th century when Provost marshal were personally appointed by the Sovereign. The Military Mounted Police became a separate Corps in the Army in 1877. In 1882 a sister Corps of Military Foot Police was formed for service in Egypt. In 1926 the two Corps were merged into the Corps of military police and in recognition of its outstanding war record, His Majesty King George VI granted the Corps Royal prefix in 1946.
The Corporal pointsman motorcyclist shown rides an Armstrong 500cc machine. This has excellent rod and cross country capability. He wears a standard combat suit and 1990 pattern web equipment. He is armed with an SA80 5.56mm rifle. His helmet is painted with a red band and rank chevrons. He wears traffic control sleeves and carries a battery powered traffic baton with red and green lights for night use.
At prestigious events such as visits by Royalty or Heads of State, No. 1 Dress Duty Order is worn. The No. 1 Dress hat has the well known military police scarlet top, this being the origin of their nickname "The Redcaps". Further badges of office are the MP arm-band and a whistle and chain carried in the left breast pocket. White leather or web belt is worn. If armed, as overseas, a crossbelt is worn to support the 9mm pistol carried in a side holster. Personal radios are linked to a central control point.
The Keep at the Royal Military police Training Centre, Chichester forms the background scene.
Published 1992

Copyright © 1992 Published by Geoff White Ltd.