THE SUPPORT ARMS AND SERVICES (3)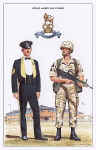 No. 70. Royal Army Pay Corps
Staff Sergeant: Mess Dress.
Lance Corporal: Gulf Combat Dress.
Background: RAPC Computer Centre, Winchester.
From a watercolour painting by William R. Younghusband.

Postcard No. 70 ROYAL ARMY PAY CORPS
In 1797 regimental paymasters were introduced into units of the British Army. 1878 saw the formation of the Army Pay Department which banded the regimental paymasters together. The soldiers who assisted the paymaster were not, however, part of the Pay Department so in 1893 these clerks were formed into another organisation called the Army Pay Corps.
The staff Sergeant wears No. 7 Dress, Mess Kit. His jacket in royal blue has primrose facings. The low fronted waistcoat, revealing a plain white shirt and bow tie, is royal blue with four gilt buttons. The royal blue trousers have a double primrose stripe down each leg. Black shoes are the normal footwear. The hat is of royal blue with the Corps cap badge, primrose piping and a black shiny peak. The Staff Sergeant depicted is wearing a 1962 General Service Medal (GSM). The 1962 GSM was given for service in a number of operational areas: Borneo, South Arabia and Northern Ireland being examples.
The junior NCO is dressed for service in the Gulf. A large number of Royal Army Pay Corps (RAPC) personnel fulfilled a variety of roles in the 1991 Gulf conflict. He is wearing desert combat clothing, combat boots, type 58 webbing and a kelver helmet. The rank insignia is worn on the right arm, above that is the Desert Rat motif. He is carrying an SA80 weapon with iron sights.
The two men pictures are with the new RAPC Computer Centre behind them. This was opened in 1988. It was renamed the Adjutant General Information Centre in April 1991.
Published 1992

Copyright © 1992 Published by Geoff White Ltd.