THE SUPPORT ARMS AND SERVICES (3)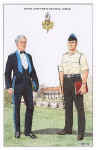 No. 74. Royal Army Educational Corps
Major: Mess Dress
Lieutenant: Barrack Dress (Shirt Sleeve Order)
Background: Eltham Palace, London
From a watercolour painting by William R. Younghusband.

Postcard No. 74 ROYAL ARMY EDUCATIONAL CORPS
The origins of army education go back at least to the reign of Charles II. In 1662 the officer commanding Fort George asked for a school master, and in 1685 the garrison of Tangier enjoyed the services of free schoolmasters.
There has been a separate Corps devoted to the affairs of education in the army since 1846 when the Corps of Army Schoolmasters was formed. It was headed initially by the Chaplain General of the day. This Corps was replaced by the Army Educational Corps on 15th June 1920. The Corps was honoured by becoming the Royal Army Educational Corps (RAEC) on 28th November 1946. The RAEC became an all officer Corps in 1963.
The officer's mess dress is in dark blue - Oxford Blue, with light blue facings. This light blue was from 1920 - 1946 described as 'Cambridge Blue' (which it is not). In 1950 it was decided to change the name of the colour to Minerva Blue, after the Goddess of Wisdom. As a major he has gold trim around the front peak of his No. 1 dress hat.
The Lieutenant is in shirt sleeve order Barrack Dress. He wears the light officer's pattern shirt with sleeves turned up. His stable belt is light and dark blue, as is his lanyard. The belt has a silver coloured clasp. There is a thin gold piping between the two shades of blue on his side hat. His trousers are dark barrack green.
Eltham Palace was the headquarters of the Corps.
Published 1992

Copyright © 1992 Published by Geoff White Ltd.