THE SUPPORT ARMS AND SERVICES (3)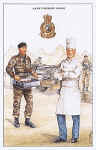 No. 79. Army Catering Corps
Private: Combat Dress.
Sergeant: Chef's 'Whites'.
Background: Field Kitchen.
From a watercolour painting by Christopher A. Collins.

Postcard No. 79 ARMY CATERING CORPS
A cookery school which trained sergeant cooks operated from 1925. In 1938 Sir Isidore Salmon, the Chairman of J Lyons and Co Ltd undertook a study into military food production methods. All the recommendations of the report, which included improved training, trade qualifications and the appointment of catering advisors, were accepted and as a result the Army Catering Corps was formed in 1941.
A fundamental philosophy of the Corps is that of "Soldier first, Chef second". A soldier chef is shown here in Combat Dress. This is worn when catering under field conditions in order to remain tactical. Other Corps soldiers are shown in the background. One is shown patrolling with his SA80.
The Sergeant Chef is in the traditional 'whites' which are worn when catering in barracks. As well as giving protection from burns and scalds this dress conforms with essential hygiene requirements. The badge of rank is worn on the left upper and made of chrome. His shoes are of a special design with metal toe-caps and non-slip sole. Within the kitchen the Sergeant Chef will supervise the production of the daily menu and undertake other management tasks related to the efficient use of manpower and materials.
In the background is the No. 4 Field Cookset Trailer. The cookset contains all the necessary equipment to prepare and cook meals for 150 persons and can be operated on petrol or liquid petroleum gas. Shown to the right of the trailer is the pressurised fuel supply tank.
Published 1992

Copyright © 1992 Published by Geoff White Ltd.