THE SUPPORT ARMS AND SERVICES (3)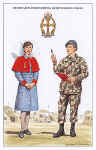 No. 81. Queen Alexandra's Royal Army Nursing Corps
Captain, Nursing Officer: Ward Dress.
Corporal: Combat Dress.
Background: Field Hospital Scene.
From a watercolour painting by Douglas N. Anderson.

Postcard No. 81 QUEEN ALEXANDRA'S ROYAL ARMY NURSING CORPS
In 1854 Florence Nightingale took a party of 38 nurses to Scutari to look after soldiers injured in the Crimean War, this marked the birth of, what was to be titled in 1881 the Army Nursing service. After Queen Alexandra's accession in 1902 the Army Nursing Service became Queen Alexandra's Imperial Military Nursing Service. The name changed in 1949 to its present title. Following Queen Alexandra's death in 1925 Queen Mary became Colonel-in-Chief. Her royal Highness Princess Margaret has held this position since 1954.
The grey Ward Dress of the Captain Nursing Officer has a belt fastened by gilt buttons. The Corps badge is embroidered on the back of the white starched veil. The distinctive red cape or tippet is worn with a silver corps badge on a red, blue and white ribbon. On the back of the tippet is a 'rose' of the same fabric which tradition states helped the nurses stay awake on night duty because it was uncomfortable to lean back against. matching red cuffs are worn. The tippet and cuffs are removed and the sleeves rolled up to perform practical tasks. Grey stockings or tights and black shoes are worn.
The Corporal in Combat Dress wears a grey beret with the corps badge on a red cloth patch. Regulation Disruptive pattern material smock and trousers are worn with a wool green jumper and green shirt. The footwear is the high combat boot.
The scene is a field hospital. An army ambulance displaying the red cross according to the regulations of the Geneva Convention is shown.
Published 1992

Copyright © 1992 Published by Geoff White Ltd.