THE SUPPORT ARMS AND SERVICES (3)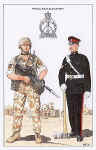 No. 76. Royal Pioneer Corps
Private: Desert Combat Dress.
Corporal: No. 1 Dress (Ceremonial).
Background: 1991 Gulf War Scene.
From a watercolour painting by Douglas N. Anderson.

Postcard No. 76 ROYAL PIONEER CORPS
In 1917 a Labour Corps was formed by allocating to it and renumbering the numerous infantry battalions on pioneer duties. The Corps was disbanded in 1919. The Auxiliary Military Pioneer Corps was formed on 17th October 1939 to provide labour support to the services and it used the cap badges of the WWI Labour Corps. On 22 November 1940 it's title changed to the pioneer Corps. In November 1946 the Corps was given the Royal title. Over 25% of the Corps were deployed to the Gulf in 1990/91 in the UN action to liberate Kuwait.
The pioneer soldier in desert combat dress is carrying a PRC 349 radio with throat microphone and earpiece and is armed with a 5.56mm rifle with bayonet and SUSAT sight. He is wearing 58 pattern ammunition pouches and respirator bag. His Desert Rat formation flash was worn by Pioneers operating with 1 (British) Armoured Division in the Gulf during the UN action of 1990.
The Corporal wears the dark blue ceremonial No. 1 Dress uniform. His hat has a red band and his epaulets are edged in red. The white leather cross belt is designed to support the axe blade on his right shoulder. The belt buckle is brass with a cap badge mounted on it. White leather gloves are worn. The Pioneer axe was traditionally used for chopping and hammering in the field. It weights 14lbs.
The background scene shows a Hyster 4000lb fork lift truck moving combat supplies into camouflaged storage areas in the desert.
Published 1992

Copyright © 1992 Published by Geoff White Ltd.