THE SUPPORT ARMS AND SERVICES (4)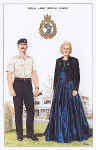 No. 75. Royal Army Dental Corps
Corporal: Barrack Dress (Shirt Sleeve Order)
Captain: Mess Dress
Background: Corps Group Headquarters, Aldershot
From a watercolour painting by William R. Younghusband.

Postcard No. 75 ROYAL ARMY DENTAL CORPS
The provision of dental treatment for the serving soldier is of recent origin. Thousands of soldiers were invalided out of the army during the South African War because they could not eat Field Rations despite the War Office's efforts in providing mincing machines. The loss of man power caused by diseased teeth was so grave in the First World War that in 1921 The Army Dental Corps was formed. Its early days were precarious because money was scarce and neither government nor medical opinion had realised the value of healthy teeth, but within a few years the Corps demonstrated its value and in 1946 received the honour of 'Royal' as a prefix. Today the Royal Army Dental Corps is a small and highly professional Corps of less than 500 officers and soldiers.
The female officer is in the recently adopted Mess Dress. This full length, Windsor Blue, taffeta gown has an attached cummerbund and apaulets both in Corps green and both here are covered by the jacket. The jacket is in navy blue superfine cloth with high collar, lapels, epaulets and gauntlet cuffs in Corps green. It is embellished with Corps insignia and has four pairs of mounted Corps buttons.
The male NCO Dental Support Specialist or Dental Technician is in Barrack Dress. This can be extended when necessary with a short white coat for surgery work or a long white tie-back gown for work in a dental prosthetics laboratory.
The building shown in the background is the Corps Headquarters in Aldershot.
Published 1993

Copyright © 1993 Published by Geoff White Ltd.