THE SUPPORT ARMS AND SERVICES (4)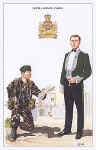 No. 77. Intelligence Corps
Sergeant: Combat Dress
Major: Mess Dress
Background: Intelligence and Security Section
From a watercolour painting by William R. Younghusband.

Postcard No. 77 INTELLIGENCE CORPS
There has always been the need for specialists to gather field intelligence and among the fore-runners of the Corps were the 'Corps of Guides' formed in 1801. Field Intelligence units were established in the South African War 1899-1902, and the outbreak of World War 1 saw the formation of an Intelligence Corps. Despite its valuable service during the war, the Intelligence Corps was rapidly run down when the war ended, and was finally disbanded in 1929. in July 1940, the Intelligence Corps was reformed by Royal Warrant.
The Intelligence Corps gilt badge is worn in a Cyprus green beret. The sergeant shown here is carrying out a reconnaissance mission as is wearing combat clothing with 'skeleton' webbing equipment. He has with him his SA80 rifle and a pair of binoculars.
Green has always been the predominant colour of the intelligence service and is reflected here in the colour of the major's Mess Dress. The collar badges are silver as worn in the officer's beret and are smaller than the gilt badges of the soldiers. Officers of Field Rank (Major and above) wear spurs as a recognition of the World War 1 mounted sections. Some 25% of the Corps hold commissioned ranks of which 40% have been promoted from the ranks.
In the background is shown a formation headquarters intelligence or security section with computer and map. Because of the nature of some of the operational tasks of the Corps many of its members frequently wear civilian clothes. Some 20% of the Corps are female.
Published 1993

Copyright © 1993 Published by Geoff White Ltd.