THE SUPPORT ARMS AND SERVICES (4)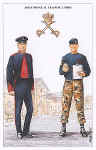 No. 78. Army Physical Training Corps
Major: Mess Dress
Staff Sergeant: Training Dress
Background: Fox Gymnasium, Aldershot
From a watercolour painting by Christopher A. Collins

Postcard No. 78 ARMY PHYSICAL TRAINING CORPS
At Aldershot in 1860, Major Frederick Hammersley, of the 14th Regiment of Foot, and twelve specially selected NCO's, were assembled and sent to Oxford University for a six month course of physical training. In July 1885, official recognition was given to the 'Army Gymnastic Staff'. In 1919 the title was changed to Army Physical Training Staff. Corps status as a combatant unit was granted on 16th September 1940.
The Officer shown is seen wearing his No. 1 Dress Cap with his Corps Mess Dress. The gold braid on the peak of his cap indicates that his rank is major or above. The twelve buttons on his red waistcoat represents the original 'Twelve Apostles': selected NCO's sent for training in 1860.
The Staff Sergeant Instructor in training dress has a stop watch and clip board. Each year a series of Combat Fitness Tests are undertaken by officers and men in the Army to ensure that they are up to the required standard. part 1 of these tests consists of an 8 mile route march dressed in Complete Equipment Fighting Order (CEFO) and carrying a personal weapon. part 2, which should be completed immediately after the march, includes jumping a 5ft ditch wearing CEFO and carrying personal weapon, mounting and dismounting from a 4 ton truck again in CEFO and with weapon and lifting and carrying a man with his weapon for 90 metres.
The Headquarters Gymnasium of the Corps is at Aldershot. This is known as Fox Gym after Colonel Fox, the Inspector of Physical Training from 1890 to 1897.
Published 1994

Copyright © 1993 Published by Geoff White Ltd.