SPECIALISED MILITARY COLLECTOR'S CARDS
ARMY REGIMENTS - SET 2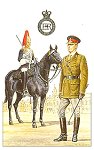 No. 1
Blues & Royals

In 1969 two famous Cavalry Regiments, The Royal Horse Guards (The Blues) and The 1st Royal Dragoons (The Royals) were amalgamated to form The Blues and Royals . Today The Blues and Royals together with The Life Guards form The Household Cavalry Regiment and are the Sovereign's personal Troops. The Blues and Royals can be distinguished from The Life Guards by their dark blue tunics; the latter wear scarlet.
Card measures 44mm x 70mm
Copyright © Published by Geoff White Ltd.