SPECIALISED MILITARY COLLECTOR'S CARDS
ARMY REGIMENTS - SET 2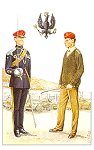 No. 4
14th/20th King's Hussars

The 14th/20th King's Hussars were formed in 1922 from two old light cavalry regiments; the 14th Dragoons raised in 1715 and the 20th Light Dragoons formed in 1759. The cap badge is the Prussian eagle. This was given to the 14th in 1798 by Princess Frederica of Prussia who married "The Grand Old Duke of York" It is one of the few cap badges to have remained unchanged for nearly 200 years.
Card measures 44mm x 70mm
Copyright © Published by Geoff White Ltd.