SPECIALISED MILITARY COLLECTOR'S CARDS
ARMY REGIMENTS - SET 2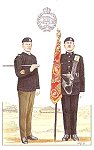 No. 7
Royal Tank Regiment

Tanks were used in battle for the first 15th September 1916. In 1915 a Special unit of the Machine Gun Corps was formed which in July 1917 became the Tank Corps. In 1923 the Corps became the Royal Tank Corps and in 1939 the Royal Tank Regiment. Their cap badge includes a stylised Mark V heavy tank of the Great War and the motto ' Fear Naught'.
Card measures 44mm x 70mm
Copyright © Published by Geoff White Ltd.