SPECIALISED MILITARY COLLECTOR'S CARDS
ARMY REGIMENTS - SET 2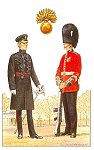 No. 8
Grenadier Guards

In 1656 whilst in exile Charles II raised The Royal Regiment of Guards. In 1660 he was restored to the throne and raised the King's regiment of Guards. In 1665 both were joined into the First Regiment of Foot Guards. In 1815 after their gallant service at Waterloo its present title The First or Grenadier Regiment of Foot Guards and the wearing of the Bearskin Cap was approved.
Card measures 44mm x 70mm
Copyright © Published by Geoff White Ltd.