SPECIALISED MILITARY COLLECTOR'S CARDS
ARMY REGIMENTS - SET 2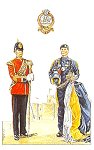 No. 10
The Queen's Regiment

The Queen's regiment is the oldest and most senior English infantry Regiment. It traces it history back to 1592 and its seniority to 1661. The Regiment took its present form and title in 1966 and stems from six distinguished former County Regiments of the South East; The Queen's Royal Regiment, The Buffs, The East Surry Regiment, The Royal Sussex Regiment, The Queen's Own Royal West Kent Regiment and The Middlesex Regiment.
Card measures 44mm x 70mm
Copyright © Published by Geoff White Ltd.