SPECIALISED MILITARY COLLECTOR'S CARDS
ARMY REGIMENTS - SET 2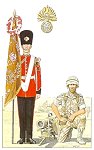 No. 11
The Royal Regiment of Fusiliers

Although the Royal Regiment of fusiliers was formed as recently as 1968 its four old Regiments; The Royal Northumberland Fusiliers, the Warwickshire Regiment, The Royal Fusiliers and The Lancashire Fusiliers, came into being three hundred years earlier. Today the Regiment has three regular battalions and two territorial battalions. Its headquarters is in the Tower of London.
Card measures 44mm x 70mm
Copyright © Published by Geoff White Ltd.