SPECIALISED MILITARY COLLECTOR'S CARDS
ARMY REGIMENTS - SET 2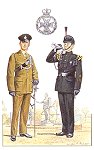 No. 16
The Royal Green Jackets

In 1966 the three regiments of The Green Jackets Brigade: The Oxfordshire and Buckinghamshire Light Infantry, The King's Royal Rifle Corps and The Rifle Brigade became the three battalions of The Royal Green Jackets. These Battalions still maintain many customs peculiar to their origins, for example Colours are not carried, the ceremonial marching tempo is 140 paces to the minute and the bugle features prominently.
Card measures 44mm x 70mm
Copyright © Published by Geoff White Ltd.