SPECIALISED MILITARY COLLECTOR'S CARDS
ARMY REGIMENTS - SET 2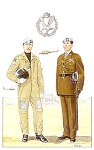 No. 17
Army Air Corps

The original Army Air Corps formed in 1942, included the Glider Pilot Regiment, the Parachute Regiment and then in 1944, the special Air Service. The present corps came into being in 1957 when the War Office assumed responsibility for the manning of its own light aircraft. In the 1970's with the advent of helicopter borne wire guided anti-tank missiles, the Corps became one of the "teeth arms"
Card measures 44mm x 70mm
Copyright © Published by Geoff White Ltd.