SPECIALISED MILITARY COLLECTOR'S CARDS
ARMY REGIMENTS - SET 2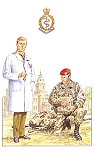 No. 18
Royal Army Medical Corps

In the two hundred years following the establishment of the Standing Army, medical services were primitive and organised only at a regimental level. in 1855 a Medical Staff Corps comprising volunteer ward orderlies, stewards and cooks was formed. Today the Royal Army Medical Corps consists of highly trained professionals and provides a comprehensive medical service for the Army.
Card measures 44mm x 70mm
Copyright © Published by Geoff White Ltd.