SPECIALISED MILITARY COLLECTOR'S CARDS
ARMY REGIMENTS - SET 2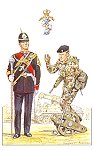 No. 19
The Corps of Royal Electrical & Mechanical Engineers

In 1942 the Corps was raised to keep the Army's wide range of equipment fit and ready for operational use. Since then it has established itself as probably the Army's most technical and versatile grouping of specialists. It provides tradesmen for all branches of the Army. As well as its main repair task it has many others, including the very important one of recovering equipment for re-use.
Card measures 44mm x 70mm
Copyright © Published by Geoff White Ltd.