SPECIALISED MILITARY COLLECTOR'S CARDS
ARMY REGIMENTS - SET 2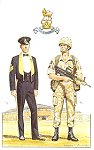 No. 20
Royal Army Pay Corps

In 1878 the Army Pay Department was formed. Previous to this army accounts had been kept on a regimental basis. Today the men of the Royal Army Pay Corps are the Army's accountants. They are mainly attached to Units to supervise and administer the unit's financial affairs. The Soldier's pay is calculated via a computer-based system co-located with the Corps Depot and Training Centre at Worthy Down.
Card measures 44mm x 70mm
Copyright © Published by Geoff White Ltd.