SPECIALISED MILITARY COLLECTOR'S CARDS
ARMY REGIMENTS - SET 2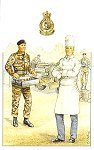 No. 22
Army Catering Corps

Founded in 1941, The Army Catering Corps has recently celebrated its 50th Anniversary. The Role of the Corps is to feed the Army under all conditions in peace and war and its officers and soldiers alongside every type of Army unit throughout the world. The Corps trains at its centre of excellence in Aldershot.
Card measures 44mm x 70mm
Copyright © Published by Geoff White Ltd.