SPECIALISED MILITARY COLLECTOR'S CARDS
ARMY REGIMENTS - SET 2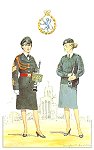 No. 24
Women's Royal Army Corps

Women were first enlisted into the Army from 1917 to 1921 as Queen Mary's Army Auxiliary Corps. In 1938 Auxiliary Territorial Service was formed and during World War II over a Quarter of a million women served. Their success led in 1949 to the Woman's Royal Army Corps becoming part of the Regular Army. Today members of the Corps serve alongside their male colleagues throughout the world.
Card measures 44mm x 70mm
Copyright © Published by Geoff White Ltd.