ARTILLERY POSTCARDS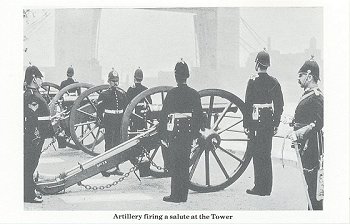 Artillery firing a Salute at the Tower
The photograph shows the Artillery firing a salute at the Tower of London during 1897 on the occasion of the birthday of Her Majesty Queen Victoria. The instructions, at that time, required the guns to be fired at 10 second intervals, however, if fewer than six guns were available the time was extended so that they were not loaded more than once a minute. The officer on the right is in Dismounted Review Order, which included the wearing of the sabretache. The name sabre-tache was derived from the German sabre (sword) and tasche (pocket). The early Hungarian hussars wore tight breeches which did not permit pockets and so their purse or pouch was worn on a waist belt. This later evolved into the elaborate sabretache which was not finally abolished until 1902.
This text was kindly researched and prepared by Alan Harfield (FR Hist S)
Copyright © 1989 Published by Geoff White Ltd.