ARTILLERY POSTCARDS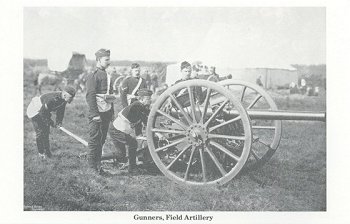 Gunners, Field Artillery
The photograph shows gunners of the Field artillery drilling with a 12-pounder gun. The team is in field service uniform and was engaged in an exercise in the New Forest during August 1895. The 12-pounder gun was in use, at that time, in both field and horse batteries and was considered to be an ideal light field gun which had a range of just under 5 miles. Records show that in 1890 8 Horse Batteries and 24 Field Batteries were armed with these 7cwt 12-pounder guns.
This text was kindly researched and prepared by Alan Harfield (FR Hist S)
Copyright © 1989 Published by Geoff White Ltd.