ARTILLERY POSTCARDS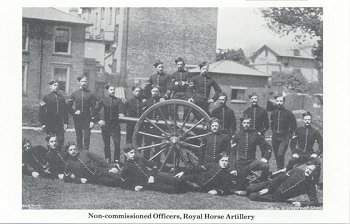 Non-commissioned Officers, Royal Horse Artillery
The Royal Horse Artillery had various nicknames including 'The Galloping Gunners', 'The Four Wheeled Hussars, a reference to their hussar type dress, and 'The Right of Line'. This latter referred to the fact that although second in precedence to the Life Guards and the Royal Horse Guards they prepared on the right of the line when with their guns. The battery's complement of NCO's was based on the six guns on the establishment, and consisted of three staff-sergeants, six sergeants (one in charge of each gun), nine artificers, six corporals and six bombardiers. The NCO's are wearing the Pillbox cap of the pattern that had been introduced for all ranks in 1884.
This text was kindly researched and prepared by Alan Harfield (FR Hist S)
Copyright © 1989 Published by Geoff White Ltd.