ARTILLERY POSTCARDS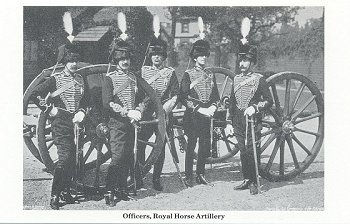 Officers, Royal Horse Artillery
The group shows the officers of 'D' battery of the Royal Horse Artillery which, at the time the photograph was taken in 1896 was stationed at St. John's Wood, London. The battery, under the command of Major F. W. J Eustace, took part in the Tournament of 1896. The officers in the group are wearing full dress. Their black sable skin busbies have a scarlet cloth bag covering the top and falling down over the right side. The white ostrich feather plumes are a spectacular 15 inches high.
This text was kindly researched and prepared by Alan Harfield (FR Hist S)
Copyright © 1989 Published by Geoff White Ltd.